In this thread I am going to try and teach you how to make a T.E.S. Dragon V/A that has a gauge fit on your spyder. This is also for people who have a leak threw there barrel when using a TES V/A.
Warning: I do not take any responsibility to any damage to you, your marker, or anything else damaged during this process or use of this mod and by using this mod you agree to take full responsibility with you actions.
ok first you will need
T.E.S. Dragon V/A
Stock Spyder V/A Male or Female
Stock V/A spring (NOT THE DRAGUN SPRING UR SPYDER ONE)
wire cutters
File
sand paper
Spyder Valve
cup seal guide, cups seal, and valve pin
Step One.
Take the spyder apart so you can take out the valve.
If having a hard time please go here for video instructions
http://www.kingman.com/section/suppo...os/videos.html
Step Two.
Take the dime and file it down to fit inside your marker use the valve for reference it should be the same size.
After that drill a hole using a 9/32 (or close to that size) close to the side of the dime while still being inside the dime.
Then sand so it doesn't scratch up the marker.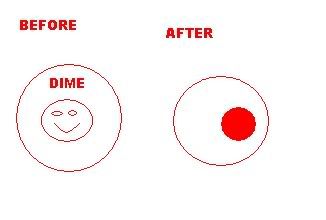 Step Three.
Take the stock Spyder V/A spring and place it in the Stock Spyder V/A.
mark where the spring begins to stick out of the V/A and cut one coil down so to leave extra room
now bend the end that was just cut into the middle of the spring so it makes a circle with a dash threw it.
Step Four.
Reassemble the rest of the Marker from the valve to the velocity cap.
Place the cup seal on the cup seal guide (star looking metal piece) and place that on the mod spring. Now place that in the valve. Slide the dime in behind the spring and then slide in the dragon V/A and screw it in.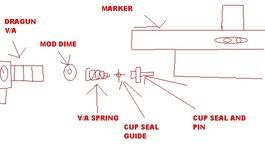 Now it's done. If there is still a leak threw the barrel please PM me and I will try and help you threw it.
If the leak is coming out of the screw hole that's because of the poor designing you need to purchase a Sock Tec. Dragon T.E.S. Tube found here
http://www.shocktechusa.com/pages/ma...gn_testube.htm
Thank You