The 1st Infantry Division, in early 1944, was one of the U.S.
Army's most experienced and battle-tested infantry divisions.
The 1st (or Big Red One from their distinctive insignia) had
fought and distinguished itself in North Africa and Sicily during
1942 and 1943, as part of the Allied attack in the Mediterranean
Theater.
On D-Day morning, the 16th and 116th RCT's made the first
landings. The 16th Regiment came ashore on the eastern sectors
of the beach (subsectors Easy Red and Fox Green) at about 0630
on D-Day with the 116th Regiment on its right.
The assault units on Omaha Beach immediately ran into intense
and devastating fire from the German forces on the high bluffs
which dominated the entire beach. Casualties in the initial assault
wave were high, and it appeared the assault might flounder. On
the beach, men were confused and many of the junior and senior
officers had been killed or wounded. Colonel George Taylor,
16th Regimental commander, saw men bunched up taking
casualties from artillery and mortar fire. He exhorted his troops:
"Two kinds of people are staying on this beach, the dead and
those who are going to die. Now, let's get the hell out of here."
Slowly, troops began to move and force their way up a draw
through a mine field to the bluffs beyond.
The "Big Red One" still had plenty of resistance to deal with, but
by the end of the day, it had helped secure a hold on "Fortress
Europe." The devastation on "Bloody Omaha" was appalling, but
the 1st Infantry Division, together with the other units on Omaha
Beach, had done their job. The success of Operation Overlord had
been assured.
Returning members of the 1st Infantry Division would like to
invite you to join them for what promises to be both a fun and
challenging event this year. If you've been thinking about
playing in D-Day but never had the chance, this is as good
a Allied unit as you're ever going to find. Don't just play
paintball this year, live the experience and you'll be one of
those who says "It's just a game till you've played it."
Official Oklahoma D-Day sign up for the 1st Infantry Division
The Bunker Extreme, Army Surplus, Oklahoma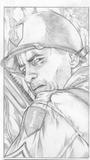 Sincerely,