Up for sale I have a beautiful Chrome w/ blue parts Karni.
Features
E2 Board Ver. 1.10 (has PSP, Mill, semi, classic and training modes.
Trinity Clamping feedneck
Macroline instead of stock steel braided line
CP Shorty Reg.
2 Piece Kaner Barrel in .689
I recently acquired this from a team mate in a trade. I have no real use for another Karni so I'm putting it up for sale. This color is not available any more. It is very beautiful and the pictures do not do it justice.
It is by far one of the nicest cockers I've seen.
I'm not in a major hurry to sell this, so I won't PM a lowest price to anyone, and I'm not really looking for any trades.
Here is a pic, I can get more upon request, but its in extremely good shape as it was used only for recplay for about 1 summer.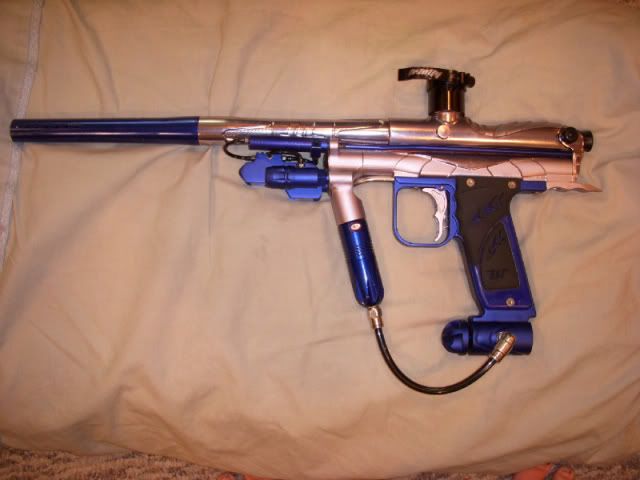 It shoots beautifully and will not dissappoint.
Asking Price: sold
I will only look at Trades that are nicely in my favor.
Please do not offer anything made by Smart Parts, Bob Long, Angel, ICD, spyder, tippmann or Dangerous Power, oh and no PMRs.
I play for an Eclipse sponsored team, so anything not made by Planet Eclipse will have to include cash for it to be considered and any trades should include $$$ or be in my favor. I know it seems steep, but I say all of this to discourage trades. However if you have an Ice Cuba SL66 you'd want to trade I'm very interested
Thats it, feel free to offer.
Posting here is preferred