Click image for re-size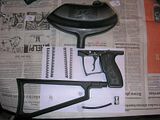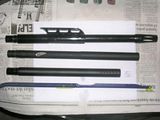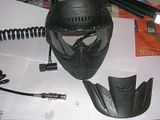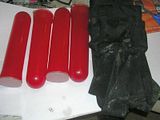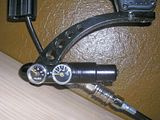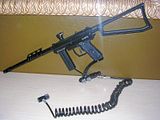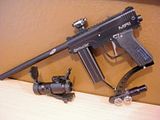 **KINGSMAN SPYDER MR1 LOW PRESSURE PAINTBALL MARKER**
Hello and thank you for viewing. If you did not get what you wanted for Christmas last year, or want to get a jump on next season by taking advantage of the off seasons sales, this is your chance to get what you want. This represents a full package of gear. Everything is adult owned, cleaned and lubed after every use. This is everything that you will need to be a contender in your recreational games. I have spent countless hours researching and purchasing just the right gear for this marker, and now it is time for someone else to enjoy my labor. I have spent well over $600 on this project but will take offers well below this price as long as it's going to be put to good use. Do not bid on this if you don't plan on using it, that is all I ask.
You are currently viewing my recreational hobby now being sold in an effort to put money into something else fun and more expensive, dirt biking. So, all that is pictured is one season old, excellent condition unless specified, the gun itself is upped and moded beyond need.
Some general information is as follows:
·Kingsman Spyder MR1 Mil-Sim Paintball Gun. This was intended for Woodsball or Scenario Play but with the e-grip (or e-frame), I have recently been a shooter in X-Ball and Speed Ball. This gun definitely keeps up with the "High End" markers.
·Upped to Electronic Grip (From the Spyder Pilot) from Mechanical Grip. Both are included. This has capabilities of Semi-Auto, 3 Round Bursts. 6 Round Bursts or Fully Auto which all have different speed settings. Home and Car Charger included.
·This is a low pressure setup. It has a low pressure spring, remote coil w/harness, and Palmer's Fatty Stabilizer. This setup does not allow CO2 in liquid form to enter the marker. It also assists in more accurate shooting, more constant. This also decreases your CO2 use per shot, increasing playing time per fill. It can easily be turned back to High Pressure if that's your preference.
So according to numbered pictures, here is more information.
1.One-Aimpoint 20mm Red/Green Dot Sight. Product # CompM24MOA. 7/8 Picatinny rail will fit the MR1's rail.
2.One-20oz Co2 tank (will not come filled due to state law) with no dents and working seal. (o-ring). One-Spyder rechargeable 170 mAh battery. One- Bottle of Liquid Fire Gun Lube. One- Package of Brass Eagle 10 count replacement o-rings.
3.One-Elbow clear plastic Feedneck. One- Straight clear plastic Feedneck. One-Kingsman Barrel Plug. One-Stock ASA Mount. One-Bolt on Stock feedneck adapter. One-Stock Striker. One-Stock Airline. Misc. Coil Remote accessories.
4.One- Gravity Fed Loader w/patented speed loading divider. Holds 100+ PBs. One- Set of 4 Low Pressure/High Pressure Spring Kit. (Includes infamous Red Spring) One- Stock Spring. One- Triangle Mil-Sim shoulder stock. One- Stock Mechanical Trigger Frame with grip. Misc Air line tubing and Coil Remote accessories.
5.One- Stock 12" ported barrel with no muzzle break (Matte Black). One- 14" J&J Ceramic Barrel (Matte Black). One-16" Sniper CMI Tru-Flight Straight Rifled & Muzzled Barrel w/fitted Dye Sight rail (Polished Black). One- Barrel Cleaner.
6.No picture 6, already sold.
7.One- JT Rap around Paintball Mask. Anti-fog w/sun guard. (Matte Black) One- CMI Remote Coil w/twist on/off. Heavy duty line (not micro line) with added Dye Nickel Slide Check (for easy disconnection) and Dye Nickel Male/female Connectors. No leaks.
8.Four- Red Paintball containers. Holds about 200pbs each. One- 4+1 Harness. This is essential for remote use and quick reloads on the field. This is a black hip harness that holds 4 tubes and one CO2 tank. One size fits all.
9.The Frame. Kingsman Spyder MR1. Custom integrated Pilot E-Frame (Stock frame included) with semi & fully auto functions. Responsive trigger. Custom Bullet Dropdown w/ASA (Stock ASA included). Custom Macroline w/fittings (stock included). Air through Magazine. 45 Degree angled Trinity Clamping Feedneck (stock included). Two ring stock bolt, polished striker (stock striker included). Low Pressure Red Spring (Stock spring and 3 other LP & HP springs included). Palmer's Fatty Stabilizer ( regulator ) w/female ASA out & remote coil in setup (fully adjustable). One- Black Palmers mini gauge w/600 psi read used for out read. One- Black mini gauge w/1200 psi read used for in read.
10.Car and House charger for Pilot e-frame
11.Not Pictured and up for sale if the price is right, make a separate offer:
§ Light Jungle Camo Cargo Pants (size 34/32)
§ Men's Large US Issued Jungle Fatigue long-sleeved Shirt
§ Black eVolution 3 (Eggy) w/z-board (cracked feedneck adapter but can be replaced)
That's about it, I am not looking to part out....yet. I am taking offers starting at $150, but for an instant sell we are looking at about $319ish obo. By Saturday, January the 26th we will have a sell. Buyer assumes shipping, Seller Paypal fees. Paypal or MO only. Products will be sent only when payment is received. All parts are as is, no seller warranty, all sales are final. In making an offer you agree to all accounts. I am also interested in trading for SmartParts or Bob Long (worth a try) Markers only. Pm first then add comment.
Thanks guys I look forward to workin withs y'all.