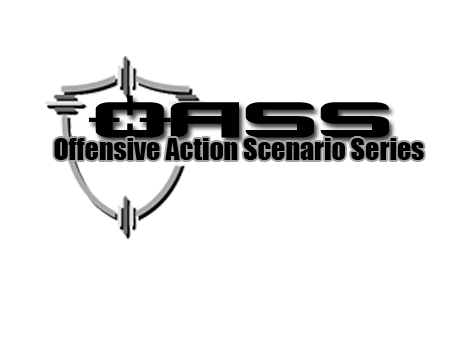 New this year, GroundZero paintball in Gananoque, ON is proud to announce, in association with Smart Parts, Warsensor, Kingman Paintball, DoYouPaintball.com, DraXxuS and buyPBL.net the Offensive Action Scenario Series.
The newest and most exciting paintball event format released in years. Imagine playing scenario styled paintball in an environment where 20 000 people are watching and commenting on your skills and talents. Where the much needed revolution of public opinion of our sport can change with you and your team in the lead!
What are we talking about here? speedball in the woods - nope. Standard capture the flag with boring head to head match ups - nope. We are talking adrenaline pumping scenario action in a playing environment that will make your heart thump and the crowd cheer!
So how does it work?
The format is simple, it's a 10 vs 10 game with several objectives located on a 150'x350' field. The winner is determined on a point basis scored based on objectives completed and surviving members of your team. Sounds simple right? guess again. The games are on a time limit as well, 12 Minutes, that's all you get to either complete the objectives or eliminate your opposition.
Each evolution will place you against another team, and this is where it gets interesting, it's not only going to be scenario players involved, there may be walk-ons just wanting to check out the format, or competitive speedballers, it doesn't matter who you bring onto the field, only the objectives are important.
Are there as many rules as in other scenario tournaments?
Well, check out the rules for yourself and you'll notice one thing right away - NO GUN LIMITS!! that's right, you want to blast away at 20 BPS, go ahead ... want to shoot pump, that's fine ... the only thing that's in place is the no-contest mercy rule which is a given and a 250 fps gun limit for safety
RULES:
http://www.blackthornpaintball.com/O...ERIESRULES.pdf
Requires Adobe Acrobat Reader
http://www.blackthornpaintball.com/O...ERIESRULES.doc
Microsoft Word Format
I've got a question!
Have a questions that you can't get answered in the rule book, feel free to post on the forum, we'll be more than happy to help you understand some of the odd rules or ideas that people seem to think up when rules are created for events!
OH ... how much does it cost and what can I expect in return?
10 Man team entry fee is $400.00 per event, I know it sounds steep ... but if you break it down that's $40.00/player that you would normally spend at an event anyway. Paint is at $80.00 per 2000 rounds (standard box of 2000) for Draxxus Blaze Camo. Now what you wanted to know was what you can expect in return? We have been able to secure packages from Smart Parts, Warsensor and Kingman that include at least 1 marker from each brand per player (that's 10 markers per package) for first, second and third place finishers,as well as possible other goodies per prize package. Also, we are currently looking at adding a fourth package as a sportsmanship package, more info on this will be announced in the near future. Nice eh?
HOW CAN I REGISTER?
Now that you are itching to try it out and want to get your hands on a prize package ... you have to wait, we will be making announcements with regards to the registration methods in the near future on our website.
the current website is only for informational purposes. This is not the official website as of yet ... it's something thrown together for those interested in the series to look at and the forum is just there until things get settled on our end. Once we have everything up and running we will be sure to change everything to the new site for all to enjoy. We are currently being hosted by Blackthorn Paintball's server due to ours not being ready before the 1st event.
www.blackthornpaintball.com/OASS
Any issues, please feel free to join up on our forum or contact 4Sight (blackthorn co-captain) here for more info.
Thanks
The OASS team.
There will be 5 events from june threw to Oct more info can be found at the website listed above or for quick info go here
http://www.facebook.com/group.php?gid=16338547274
First event
Deseronto Waterfront Festivel june 20-22 2008
info on event
http://www.facebook.com/group.php?gid=5682971490