I'm pretty much done, haven't played really in 1.5 years...lost some interest and all my buddies are gone too. I'm still going to keep minimal gear for just in case I do get a chance to play again.
My Mags are pretty much spoken for (think I will keep the X-mag though!).
WGP Autococker is a 03 but updated with 05 pneumatics and Oraccle delrin bolt (brand new), Dye parts: Hyper reg, beaver tail (milled to fit), airport, stickies. Has System X drop but I also have a Check-It unimount that I will include. Standard barrel. Timed and nice short crisp trigger pull. $150.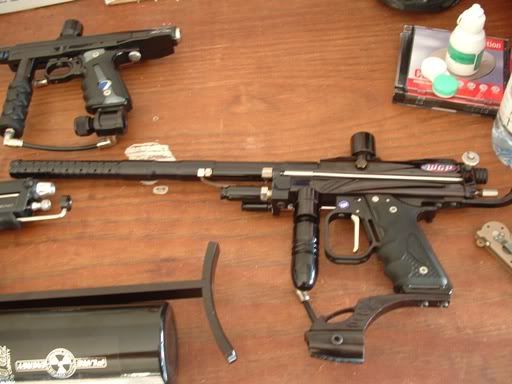 ACI Hornet in excellent condition (looks new). Zero Gravity barrel and stock barrel also, venturi bolt and standard adjustable bolt. Dye Izon sight. $70.
(no pics but 100% flawless and can get pics if needed).
Max-Flow 68/4500 (black manifold style), Immaculate, high-pressure set up, adjustable to 1000 psi. Hydro good through 6/2007. Cover and fill cap included. $125.
Obviously don't need trades. Can do credit cards through PayPal, personal checks (must clear), etc...
Oh, and I will be leaving again after the end of the month, so any transactions have to be done prior.