Well, as I mentioned yesterday, I received my new dust blue Lucky Un1tec barrel and dust black back. Today, braving the ice and snow, I made it to Wal-Mart, slipping and sliding, and bought some paint for me to test this for you yahoos. Ok, so I had to talk to the cell company about my bill, and my wife wanted me to pick up some stuff at Wal-Mart, so I just got paint while I was there....but I digress...
This is a long review, because I believe in being VERY thorough and try to give you guys the best review possible. No tl;dr because you're educated, and if you're interested, you'll read it. Otherwise, who cares that you're too lazy to read it?
************************************************** *****************************************
I needed a different sized barrel than the Proto one I have (.690) and this set comes in .685, .689 and .693 sizes for a relatively cheap price - $14.00 for the back which comes in Spyder, Shocker, Ion, Autococker, Angel and old school Angel, and $29.00 for each front. You can buy the fronts seperately or in a set. They come in a variety of colors: red, blue, black, pewter and silver, all in either dust or gloss finishes. I heard a few good things about them, and since I needed a new kit for my Rail, decided to go with this based on price and reviews.
When I recieved it, it was wrapped in bubble wrap, then in a small box with packing peanuts - not bad! Very safely wrapped. Shipping was extremely fast - I ordered it at 11:00 on Wednesday, and received it on Friday after school. 9.00 shipping from UPS.
I opened it up, and it was already put together with the back screwed onto the front. Yes, the back screws ONTO the front piece, but in actuality, the term "front piece" is a misnomer. It's not really a front. You have to imagine this - the front is one long continuous piece. The back is more like a shroud that the barrel screws into, and then the back (shroud) screws into the gun. The theory from Lucky is that with two piece barrels, there's a chance of a ball break because of the split where the two pieces meet - in my opinion, a bunch of bull unless the two come apart while playing, which in my experience NEVER happens - and with their barrel being a one piece design, this will not be an issue. Theory = good, but reality = no.
The first thing I noticed when I removed it from the box and wrapping was that it was VERY light. I'd read reviews that it was lighter than the ultralight barrel from Dye. I believe it! It's annodized aluminum, not ceramic, and I don't believe it has any special teflon finish.
Anyway, I looked it over really well, and it looks pretty good. The dust finish is nearly flawless, the blue is not an obnoxious, nor too subtle color. The black is just as nice, and has some angular milling which is really nice as well.
(Excuse the pictures. As you know, accurate color representation is hard to accomplish when you're using a cheap digital camera and just the flash or ambient lighting.)


As you can see by this last picture, the back/shroud slides over the back of the barrel (you can see the white size indicator that says 89 near the back) and screws on to the front about 3-4 inches up the front piece. It takes quite awhile to accomplish this feat, actually. It's not coming off easily!
You can also see the porting on this barrel in that last picture. It goes down over half the barrel on three sides, in an "interesting design", that I haven't quite decided I liked yet. However, when I shot it, it was pretty quiet. This would be a good barrel for noise reduction for those playing scenario or woods that want the stealthiness of a quiet barrel.
Now, when I looked inside the barrel, the first negative thing I noticed was the finish was less than mirror polished. I have several barrels and ALL of them are mirror smooth. The first 3-5 inches in this barrel is not mirror polished - in fact, it looks more like a lessened version of the dust finish on the outside of the barrel. Not real rough, but you don't see reflections either. I'm not real happy with this at this point.
So, I attach it to my gun and it really looks good. About 3 inches longer than the Proto one piece I have, but the colors really match well. The milling on the shroud (I really hesitate to call this a back) goes well with the receiving end of the Rail.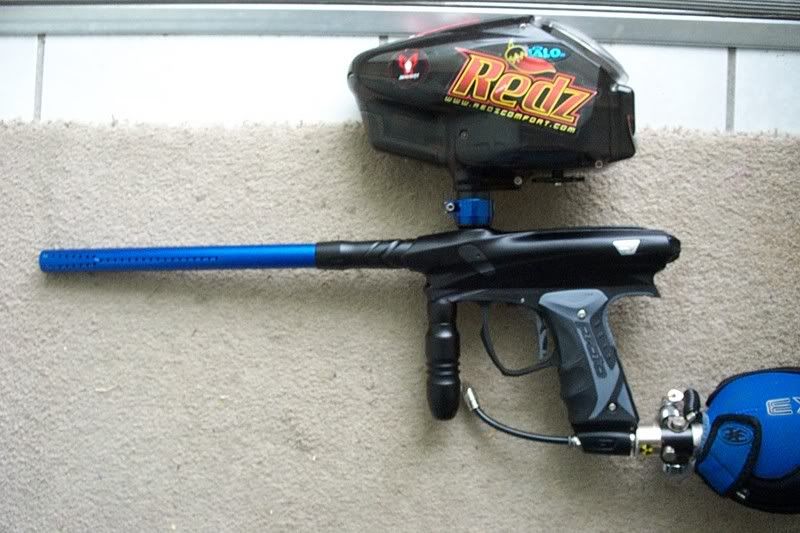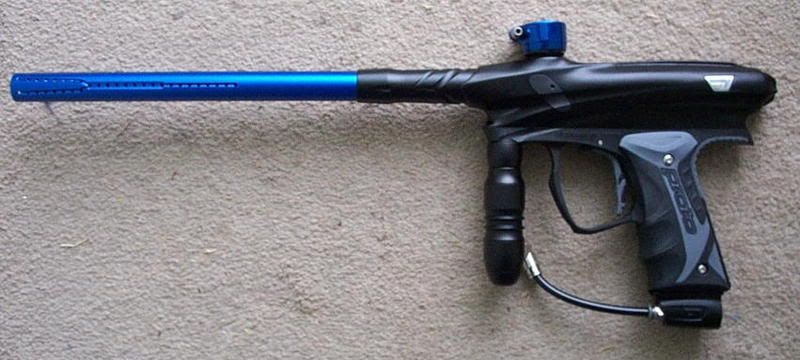 Enough on looks. As I mentioned, I bought some Wal-Mart paint. My local field is closed today, because quite frankly, without a snowplow, no one's getting there! Too bad, because they just got a shipment of XO paint I want to try. Anywho, I got Visible Impact - which looks and seems just like Scorch, although they had Scorch on the shelf as well. All the shells were round, no breaks in the bag and felt pretty decent. Also fit the barrel perfectly. I shot two loaders, some at high rates of fire for me and not a single barrel break or chop.
So, here were the conditions for the test:
current temperature - 25*
lots of snow falling, but no wind
I shot under my back porch, and my gun and paint were warm from being inside.
Proto Matrix Rail with trigger adjusted, all stock EXCEPT the Q Lock collar and the Un1tec barrel.
Proto One-Piece barrel
Pure Energy 68/3000 tank filled to about 1800 psi
Gun chrono'd at 289
Semi setting
Shooting Visible Impact, made by Procaps for Game Face
Distance - 40 feet
First loader was bad. I had a HUGE shot pattern. I wondered if maybe my gun was shooting hot, but I chrono'd and it was 289, 287, 289, 289, 289, 282. (Not bad considering only about 1000 shots have gone through it at this point!) Figured it might be paint, but as I said before, the paint was round with no indentions, no breaks and not too oily. However, it is Wal-Mart paint.
2nd loader - not nearly so bad as the first. Chrono'd again - 289, 287, 289, 289, 289 (WOW!) Shot pattern wasn't so wild this time with about 6 out of 10 shots being within 12 inches at 40 feet.
3rd loader - used the Proto One Piece to verify if possibly a paint problem. Chrono - 265, 261, 257, 251 (remember, it's a bigger bore - .690) but not too bad. I had a MUCH tighter shot pattern this time. Even at a higher rate of fire, with some major dropoff (I think it was caused by only having about 500 psi left in my tank and shooting high speed made it choke a little).
Findings - It's my opinion that this barrel is not all it's cracked up to be. Using the same paint and a larger bore, my Proto One Piece was much more accurate than the Lucky Un1tec. When I get some higher grade paint, I'll do another shot test and verify this. So much for ball to barrel match resulting in accuracy (see my previous test on this that proved (at least to me) that it didn't matter as much as everyone thinks...)
Vike's Rating scale 1-10 (1 being lowest, and 10 being highest)
Weight - 10
Accuracy - 6
Noise level - 8
Price - 8 (by itself, not bad. As a kit, it will cost about the same as a J&J Edge)
Looks - 8
Shipping - 9
Overall score - 8