| | |
| --- | --- |
| vikingshadow | 10-23-2011 05:16 PM |
---
Re: End of an Era Sale, Part dos

Squeegies
What can I say? Best squeegies on the market - Redz and Dye Fuzzy sticks. Of course, these are used but in pretty decent shape - cleaned after each day of play/use.
Price - $5.00 each for the swabs and loader cleaner. $25.00 for the whole lot of swabs!
Redz barrel swab, Dye Fuzzy stick and pull through SOLD!!!
$8.00 for the Empire Lanyard and $3.00 for the Straight Shot squeeqie on top, or $10.00 for both.
Buy them all and I'll through the pull through squeeqie in for free! Otherwise, $2.00 for the pull through.
Headband and Barrel Condoms
Some of you may remember when I started making head wraps and head bands several years ago. This is the only one I have left. I wore it during one tournament. It's a little frayed along the edges but has a LOT of wear left in it - how cool is it to rock the good ol' USA flag during a tournament?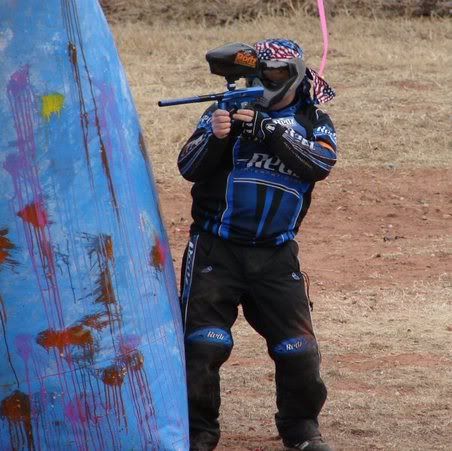 Headband - $10.00 as it's handmade and one of a kind.
Barrel Condoms - $5.00 bucks each
Chronograph
Radar Chron - excellent shape, never been shot at all. Velcro in good condition, foam and box as well. My own personal one, so it was treated well! The yellow dot on the screen is from the flash - it's not actually there.
Chronograph SOLD!!!!!
Pods
$1.00 plus shipping each. Excellent deal for throw away pods!
Reballs
Almost a full pod of reballs (approx 170 balls - haven't counted in a while). Includes pod. Very clean and in excellent condition.
Asking $30.00 OBO.