| | |
| --- | --- |
| timmyshoota | 12-18-2008 07:19 PM |
---
Everything has to go! $500!

I've racked up some debt, and although I didn't want to sell my gear, I doubt I'll ever be at a field again, and I need to get myself out of debt so I can buy a car.
I want to sell the entire setup together, but can make package deals.
Everything: $400 Price dropped!
Gun, Tank, Hopper: $450
Pants, Pack, Arm Pads: $100
Whats included:
-Smart Parts Shocker NXT
CCM Frame
Shocktech Reg
NDZ bottomline
SFT VA
SP feedneck
-Crossfire HP 68/45
12/2010 hydro date
-VLocity Jr
-08 Proto pants
Medium
Grey
Worn a handful of times, in great condition
-Eclipse Arm Pads
Large
-NXe Avalanche 3+2+2 pack
Red
Comes with 3 pods
I really hate to sell, but debt has got me in a bad spot and I need to get out of it before the end of January.
http://img.photobucket.com/albums/v1...hings/nxt1.jpg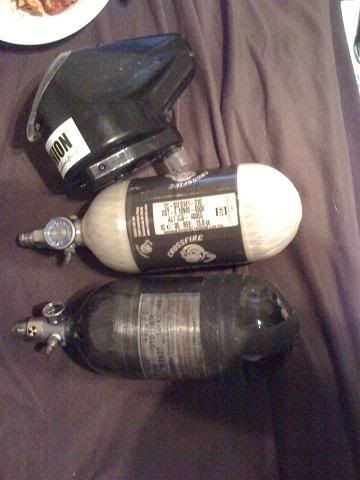 Bottom tank is not available, its long gone.