July-Aug-Sept Non-Spyder of the Month voting...
Please do not discuss whose gun is in the picture. If you know, keep the secret. You may discuss it in this thread...just not whose it is.
NO OTHER PICTURES ALLOWED in this thread....
Vote for the Non-Spyder you like best or the one that you feel has the most work done or improvement.
Make sure to vote in all the polls
Votes will be made public to avoid cheating. Any gun found to have fraudulent votes will be disqualified.
Polls close in 5 days. Have a great contest!
If you don't see your marker, even though you entered, then it was not in the right format or the picture was invalid
************************************************
And the Markers are........
1- PM6
2- 07 Quest
1 of 1 Dust black factory anodized, 1 of 1 Acid custom trigger with critical bearings, Redz feedneck clamp, Furious lotus barrel kit, APE board, Red laser eyes, Goldmember bolt, Tape mod, Custom Lexan grips, CP asa, and a cp rail.
3- 04 vert Autococker prostock
Orracle ram, orracle lpr, orracle 3 way, 10" boomstick, shocktech dropforward, orracle bot, and slik lite back block.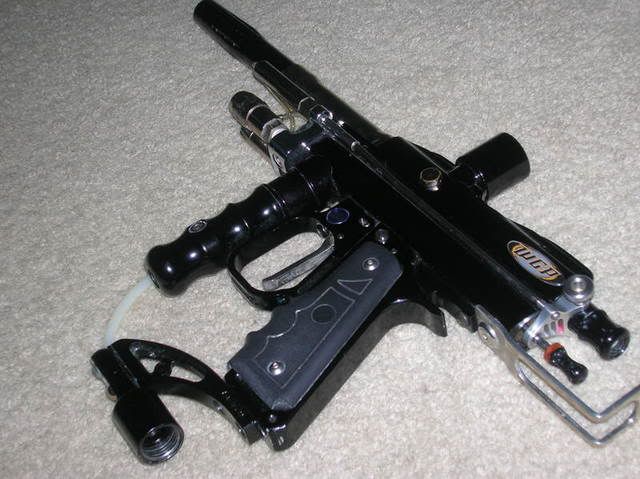 4- Mini
5- Ego8

6- Alias Intimidator
Full freak kit, Torpedo reg, Hybrid hedlok 1, hybrid eye covers, hybrid grips, hybrid ram cap, hybrid verdict LPR, CP swoop trigger, CP rail and on/off, Virtue board, Virtue membrane pad
7- 2005 Dark Intimidator
CP Barrel, CP Mini Rail and On/Off, CP Trigger, Planet Eclipse Regulator, Hybrid Headlok Feedneck, Tadao Board, Dark Bolt and Ram Cap