Please do not discuss whose gun is in the picture. If you know, keep the secret. You may discuss it in this thread...just not whose it is.
NO OTHER PICTURES ALLOWED in this thread....
Vote for the Spyder you like best or the one that you feel has the most work done or improvement.
Make sure to vote in all the polls
Votes will be made public to avoid cheating. Any gun found to have fraudulent votes will be disqualified.
Polls close in 5 days. Have a great contest!
If you don't see your marker, even though you entered, then it was not in the right format or the picture was invalid (I allowed a slightly larger picture size on a few of them, and if your specs are not shown it is because you did not submit them in the right format. If you want them in PM me in the correct format and I will add them)
************************************************
And the Markers are........
1- MR-1
Custom Made Stock, Hand guard, removable secondary barrel
2- Spyder Sonix true pump
chrome Freak back with All American front, PMP Trilogy Pump kit, modified valve pin, slotted striker, modified bolt, Dye .45 Spyder single trigger frame, Ion gas-thru grip.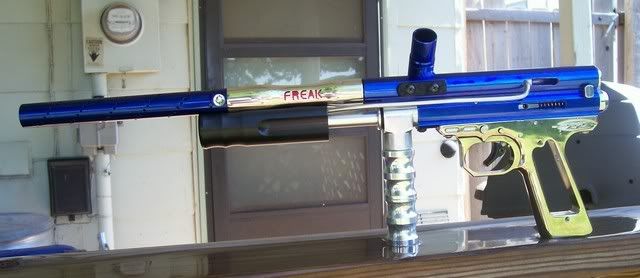 3- MR2 W/eye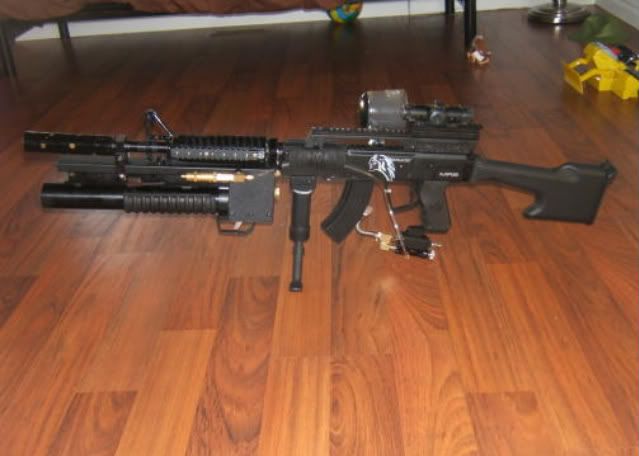 4- Sypder Pilot ACS
J&J S2 14in Barrel, Blue Dye Stickys,Clamping Feedneck, 32* spring Med
5- 2k5 Electra
Half Backed/Polished Electra Body, 32 Degrees Magnaport Valve, Bob Long Gauge, Check It Assault Block (Chrome), Dark Horizons Titanium Striker, Evil Detonator Reg, Kingman Chrome ESP Frame, J&J Ceramic 16" Barrel, T-Board Ver. C, Muddytaco Dual Bearing Trigger (Modded for sausage fingers like mine), Dye Stickies, CP Directmount On/Off ASA, Victor Bolt with dual detent mod and venturi removed, Polished Trinity Feedneck
6- Victor
Custom milled and painted body, ESP frame with Sticky 3 grips, frame moved forward, CIP Assault Block, BL Torpedo reg, Maddman spring kit, modded internals, 32* Whisper barrel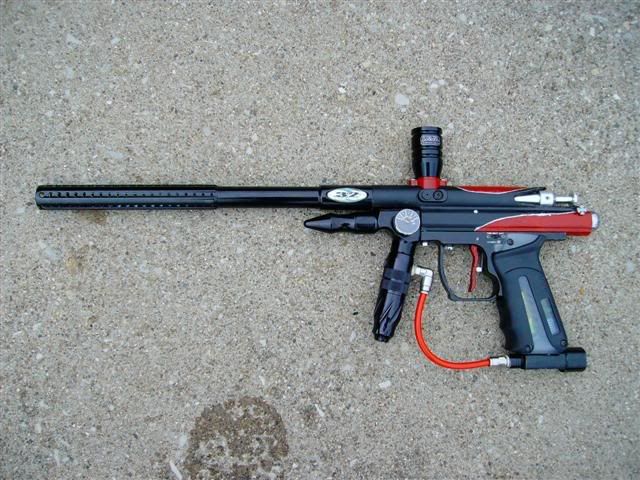 7- MR1
Custom bolt-action, RAP4 18" rifled barrel, UHC Super 9 airsoft body, RAP4 Tactical Weaver mount, 3-9x40 Red/Green Illuminated scope, Custom paint job, RAP4 HG bipod, Whisper muzzle brake, Icon Z trigger frame
8- Spyder Pilot
Bandit Bolts High-flow valve, NDZ Valve Pin, Alamo High-Flo cupseal, Bandit Bolt with o-rings, Dark Horizons Titanium Hammer, Empire Regulator, Killa Magnetic Detents, Check It 15* Assault Block, CP Rail, Sundragon Magno-Trigger, Sundragon 50 G spli-switch, Sundragon/CCM Clamping Feedneck, Dye Sticky Grips, J&J S2 Ceramic Barrel, 32* spring kit, custom paintjob, and JCS Blackpoint Folding Stock w/ velocity adjuster.