Well, as some of you may know, it takes a lot for me to change my opinion on things. Some call it cynical, some call it closed-minded - whatever. I always thought I should be from Missouri with my "Show Me" attitude on life...
I've had a Redz Dimension pack for nearly 5 years now, and it's been a work horse. I've tried other packs but always came back to this one pack. In fact, in several threads here, I have called the Dimension the best pack available. However, after 5 years of use and abuse, the velcro just started going in the pack so I was beginning to fret about what pack to get. Since you can't buy the Dimension belt anymore, I thought I was going to have to settle for something a bit crappy.
Saturday, my field owner called me and mentioned that he had picked up a pack that he absolutely loved. However, he's a back guy, and the pack he bought was a 3+4 pack and he needed a 4+5 pack. He told me that in practice on Sunday, I ought to give this pack a try, because it was the best pack he had seen. Now, this guy has been playing for more than 20 years, and seem most things come and go. We have very similar tastes so I figured, why not give it a shot?
I did a little research on this pack, but wasn't very impressed. The pictures, at best, were bleh, and it didn't seem to offer anything any different than any other pack. In fact, I was sort of turned off because the main thing I liked about the Redz pack was the wide belt, and this was significantly thinner. So I figured even if I didn't like it, he could sell it to some other person.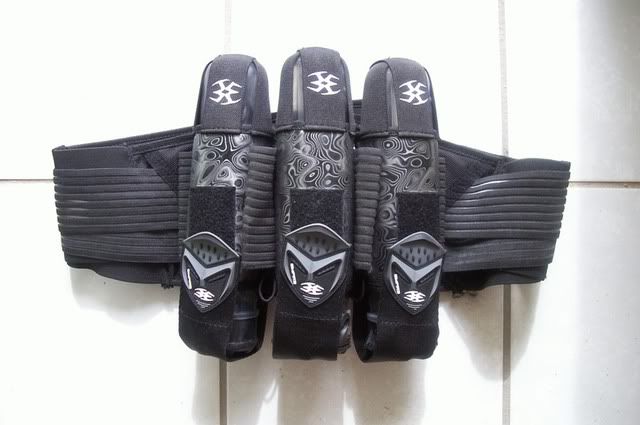 Specifics:
According to Actionvillage, here are the specs on the pack:
No-Slip Lumbar pads to keep your harness exactly where you want it!
New Easy-to-grab pull tabs mounted on durable seat belt material pod straps
Elastic pod ejectors that help you spend less time reloading and more time shooting
Polymer insert pod sleeves for easy pod insertion for those back to back games. Nobody likes to filling harnesses, we make it easy.
Silicone pod gripz screened on the inner wall of the elastic pod ejectors
The belt is now thinner at the waistline where you bend and constructed with flexible neoprene so there is less restriction and you can focus more on playing the game than uncomfortable waist belts
Hidden ID/key/credit card holder to stash your valuables safely on your person, so you can lock your car worry free in the parking lot
New and Improved Medical grade hook and loop closer systems this year for the maximum hold available.
Heavy duty nylon stitching with Accustitch seams
Looks:
This is the Acid version of the pack. There is also a Crimson, H2O, Ice, Mercury, and Black version. Unfortunately, as I mentioned earlier - you can't get a good picture of this pack due to the material used on the pods. You really have to see these in person to appreciate them. However, my friend TOLD me (I haven't seen the others) that the other colors were just meh, in his opinion.)
My first impression was that pictures CAN NOT do this pack justice. It's just impossible to photograph well due to the shiny material. I was very impressed with the looks. The swirls on the pod holders appear to be very deeply ingrained in the pack, though it's just an optical illusion. The pod areas are slick, which help in clean up, so no more stains there. The belt looked good, with grey stripes running the width of the belt. Turns out, the grey areas are actually clear, and you're seeing the actual belt underneath.
Strength:
Second impression was with the velcro. We put it together, then he got on one side and I pulled on the other. Hard. We couldn't get the thing undone! Just undoing it left marks on the ends of my fingers. I can see this velcro lasting a LONG time. The advertisment says this is heavy duty velcro, but I think it's more than that, actually.
The straps for the pod ejection system are made of seat belt material, so you know they are strong. There is a rubber pull on the end of each strap that is soft, but very durable. The elastic at the top is pretty stiff (which is one reason I shyed away from ejection type packs because it was harder to load a pod safely) but after just a couple of times loading, I could tell it was a bit easier to load the pods.
I never use the "+" parts of the pack as I don't carry that much paint. I play mid/insert and just don't shoot that much in a game. This part of the pack always bother me because they always seemed extremely difficult to load. This pack is no different than those. The elastic is very strong and stiff, but that may just guarantee that the pods don't go anywhere. I'll have to try that later to see what I think about that.
While everything on this pack feels strong, the weight of the pack was somewhat confusing. It felt a bit lighter than my Redz pack, and most other tournament style packs I've tried over the years. As we all know, the loss of an ounce or two everywhere adds up on long games, so this was a big plus!
Comfort:
I put in some full pods and tried it on. This brings up my next impression which was very positive. The belt was actually VERY comfortable! Those with a little pooch in the belly area can appreciate the need for a wider belt, but the problem is that when you get one, it keeps you from deep breathing when you run - which is a big negative. This belt, though it gets wider as it approaches the pod area, has a smaller front that won't bend when you do. It was MUCH easier to breathe while I had it on and I wasn't constantly trying to adjust it.
Another thing was that these packs only come in two sizes: small/medium and large/extra large. I got the LG/XL one, which may have been a mistake. While the illusion that I was as skinny as some of my teammates and I could literally wrap the belt nearly all the way back around again was pretty cool, I'm in the process of losing weight, so I could probably have gotten away with a medium. The belt was comfortable around my waist, and when I tightened the elastic part, it wasn't restrictive at all. Just a bit tighter, but not uncomfortable.
However, despite the size of the belt, it seems the pod area is a bit smaller for some reason. I don't know, it could be an optical illusion, but whatever - it didn't feel like a very large profile on my back which is a big plus. When you're fighting it out behind a small bunker, you don't want anything sticking out - especially your pack!
The ads say that this has no-slip lumbar pads to keep the pack right where you want it. Yeah, right. Been there, done that. So, I decided to put it to the test. I jumped up and down a lot, ran the length of the field a few times (hey, I've been running a lot over the past few weeks, so I could do it!) the whole time focusing on how the pack moved and felt loaded with 3 full pods.
First thing I noticed was there was a major decrease in "bounce." Those of you with a bit more ample, but not mushy, butts know that most packs tend to feel like their rocking when you run - first it hits your back, then your butt, then your back and so on. There was a TINY bit of this bounce, but hardly enough to feel like it was going to bounce off or beat you to death. There was absolutely NO slippage at all.
Second thing I noticed was what I already mentioned - the breathing part. I found that I could breathe while I ran - that deep breathing kind that makes it easier for you to catch your breath. Because of this, I could go a bit longer, and wasn't fogging up my glasses in my mask which has been a bit of a problem over the last few weeks. Very impressive!
During practice, I noticed that when I bent over or squatted behind a bunker, the belt wasn't in the way at all. It didn't even make that tearing sound that velcro makes as it slips a bit - because the velcro held tightly and didn't give once. Snapping became easier, first of all because I could bend, jump, move from side to side and knew the pack was going to be right where I left it. Didn't help me any, as I got hit more than normal, but that's not the packs fault!
Finally, I realized that when everyone else was dropping their packs in between drills and when going to get air or paint, I didn't even notice I was even wearing it. Literally - I noticed them doing that, and then noticed while I normally did the same thing, this time I didn't. That's the sign it's a good thing - when you don't even notice you have it on.
Final thoughts:
For this review, I thought I'd sum it up like this. On a scale of 1-5, with 1 being the lowest and 5 the highest, I'd rate the pack as follows:
Looks: 4 (I still prefer all black and not shiny, but so what?)
Weight: 5
Velcro: 5+
Size: 4 (I wish there was an "inbetween" size. Like a medium/large.)
comfort: 5
In conclusion, I'm going to use my friend: All day yesterday, I listened to him(my old co-captain, captain of our team, friend and the field owner) complain about his Redz Dimension pack - the pack both he and I love! He said this pack ruined him, and I agree - this pack blows away the Redz pack!
Here's another BAD picture of this pack - the flash actually makes it look shinier than it actually is.