Well, thanks to TimberTiger, I have this sweet MacDev product to review. It's going to be tough sending it to him when I'm finished, that's for sure, LOL!
Just kidding - I'll get it back to you in 3, maybe 4 months...
:devil:
So, several months ago, Timber approached me and asked if I wouldn't mind reviewing this gun for him. It was totally TOP SECRET and no one was to know. Of course, we know how long that lasted, haha!
I was to get it the week following World Cup, but due to some difficulty at the factory (I believe) it didn't get here until this week. No worries, just that this week has been the longest week in history for me, and I didn't even realize I had it until I rolled in around 11:00 one night to a message on my answering machine from Robert asking if I got it that day. So, true to form, I sent my daughter scurrying to the front porch, and sure enough, there it was!
This will be a totally unbiased review. I have never owned a MacDev product, only having heard rumors about them, so I was expecting something good, but not to the point that I knew what to expect. Also, it's going to be somewhat shorter than normal since I believe there is some interest in this for a paintball magazine, so I can't elaborate too much on the gun.
Oh, and BTW, I write rather lengthy reviews trying to be as thorough as possible, so if you don't like it, turn around and go now because I don't do tl:dr's! So, without further ado, here goes!
************************************************** ***
First impressions:
Like any good paintball player, I was excited to open this thing up and see what the fuss was all about. Even though it was pretty late, I figured, what the heck?
The package was a bit larger than what I was expecting. Not thick, just long. Right away, I wondered what might be in it. Opening it up, I saw the gun, of course, a two piece Matchstick barrel (bore size .689) a small tub of lube, a manual, a really cool Allen wrench kit (the kind with the ball on the end of them) a barrel sleeve and pretty decent foam packaging.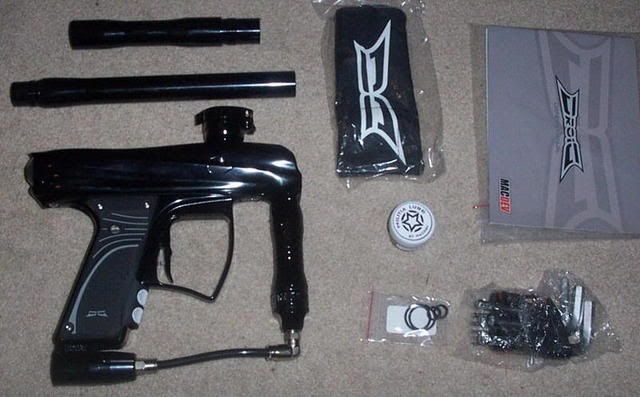 My first thought was, "Oooo, shiny!" But then, when I put it together, I got to thinking, "I wanna shoot it - NOW!" But, knowing that firing a paintball marker after 11:00 at night is probably going to cause a big ruckus at the next neighborhood meeting, I decided to wait until I could give it a good review.
Second Look:

In this comparison picture, with my Rail on the right and my Shocker on the left, the Droid is very comparable in height. When I put the barrel on the Droid, then held it (without the tank) I thought, "Whew, this puppy is lonnggg." However, when I compared it to the three guns in the picture, the Droid is only about an inch longer than my Shocker, and within a half inch of the Rail (if you don't count the decorative points on the front and back of the Rail.)
I think that the reason I thought it was longer was because there is a HUGE gap between the reg and the trigger guard. While I have a teammate that would love this, I was less than thrilled. I'm what you might call short, and have short arms. The closer the gun sits to me, the more comfortable I am. So, without a tank on it, I began to have reservations about it.
I noticed that the Gladiator reg is pretty thin. Thinner than any I've ever used before. I looked it up on the internet, and sure enough, it's something like 2/3's thinner than last year's model. While I enjoy it's size (once again, small hands) I could see that maybe those with bigger hands might feel a bit off.
The anno out of the box
looked
nearly perfect. While I'm not a fan of black guns (although my rail is black - it was the only color available at the time) this looked pretty good and I was fairly impressed. It looks thick, and like it won't wear off any time soon. However, I was a bit disappointed after closer inspection, because I noticed the obvious tool marks on the body where the ridges on both sides and the top meet the main body, as well as on the frame. It's not so obvious that it'll jump out at you, but you can see them in the right light and feel them when you run your fingers over them. With as much as this gun costs (msrp around $1100.00), and coming with a polished finish, I pretty much expect it to be smoother than a baby's bottom everywhere. Maybe I'm picky, but then again, this is a review!
One last thing to watch out for on this gun. Where the back cap goes are a couple of points. While they don't stick out far, they are VERY pointy and somewhat sharp. I think maybe MacDev could have dulled them up a little more, but that's an opinion of mine and doesn't matter one way or the other.
Let's end this section on a postive note, though. I absolutely LOVE the sliding on/off switch just to the back of the frame and under the body. It's a dream! Instant on, and the LED indicates immediately if there's paint in the barrel. A+ for this!
Here'is a picture of the gun to make you drool a bit...