I am now heading up of the month contests, so if you want to win my paypal addy is.....................o wait that was suppose to be sent in pms.
Anyway, with my takeover I decided to spice things up as I was copying and editing bamf's old rules, thanks buddy:p
There is now two new category's, hopper of the month and mask of the month!!!!!

Hoping this will draw in more participation, as the OTM contest seem to be dying compared to what we use to have around here:(
I am leaving this out of the stickies this time as I know it got overlooked alot in previous contest (or maybe that was just me:o )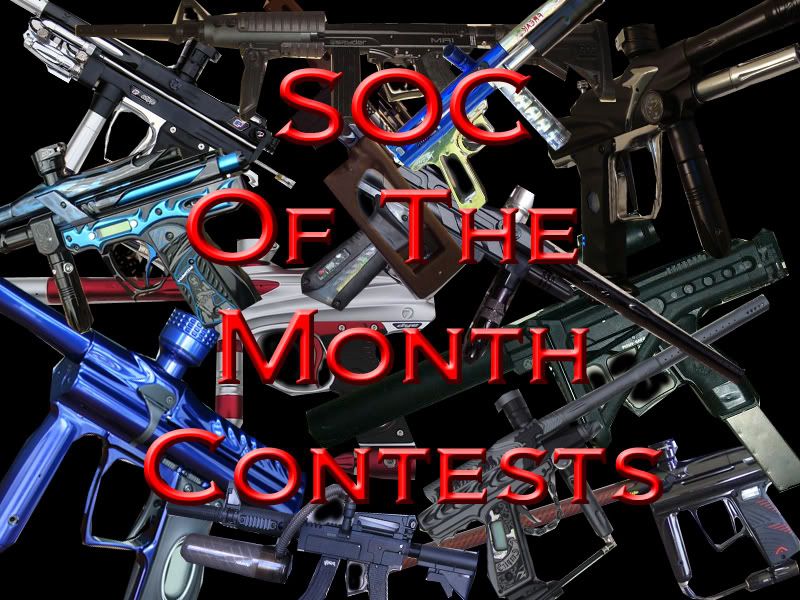 Starting Today, February 1st, you can start sending me pictures of your respective guns/masks/hoppers for this month's of the month contests.
Anyone can enter, either in the Spyder of the Month (spyders and blowback clones), the Non Spyder of the month (every other gun), Hopper of the month and Mask of the month. Since its the start of a new year anyone can enter as long as you didn't win in the past. If your gun has won in the past its
not
eligible unless it has went through drastic changes, ex: spyder that is now a spimmy, gun was annoed, went from stock to fully uped, etc.
All ENTRYS ARE MADE THROUGH PM'S TO ME, DO NOT POST ENTRY IN THIS THREAD!!! READ RULES FOR CORRECT FORMAT!
I will post when we are no longer accepting entries.
Once the contest begins it will run for five (5) days. If a tie or a final round is needed that will run for three (3) days.

HERE ARE THE RULES!!!
If you don't follow them your gun will
NOT
be entered. I am not going to notify you if it is not going in, we don't need to spoon feed you guys and gals.
SO read the rules!

Rules:
#1 - KISS - Keep It Simple Stupid! Have fun, but let's keep the popularity contest at a minimum...vote for the gun/mask/hopper you think looks the best, or has the most work done to it, not based on who the owner is....b/c lets face it, then I would just win all the time:dodgy: .
#2 - Send me a picture of your gun, mask or hopper, sized to 800 pixels on the longest side. If it's not that size, it won't go in the poll, I don't have time to resize your pics.
#3 You must send full specs with the picture. If its stock says its stock, if its uped list the ups. Don't lie about ups, I know almost every single part in pb I will catch you:D
It must be in the this format or it will not be entered:

Subject of PM needs to be SOTM (for Spyder of the month), NOTM (for Non-spyder of the month), MOTM (mask of the month), HOTM (Hopper of the month)
If you are entering more than one contest please put all subjects in the title that are needed!!!!
ex: SOTM and MOTM
Pm should be in this format:
Subject: SOTM, NOTM, MOTM or HOTM (all that apply)
Marker/Mask/Hopper Type:
Specs in this format: spec, spec, spec, etc......don't skip lines between specs!
Picture:
Example:
Subject: MOTM
JT Pro flex
Mirror lens, tiger strap, colored softears.
[IMG]www. where ever its hosted.com / aaaa.jpg[\ IMG]
#4 - The gun/mask/hopper you present MUST be yours. The gun/mask/hopper must be in your possession, not for sale or one that is sold, so you can not enter a gun/mask/hopper you sold last week!
#5 There will be seperate polls for SOTM, NOTM, HOTM and MOTM
#6 -
NO PHOTOSHOPED OR EDITED PICTURES!!!!
If you don't like the background take a new picture. Anything found to be Photoshopped or edited will not be entered and if it is found to be edited after the contest starts it will be DQ'd. This includes borders on the pictures. This is not a photoshop contest!
#7 - Once you win, you won't be allowed to enter that gun/mask/hopper again until the "of the Year" contest.
#8 - Discussion of the gun/mask/hopper will be allowed in the poll thread, but do
NOT
discuss who's gun it is. Let's let the people decide on their own which gun they want to pick.
Read the rules again before submitting!
Have fun and good luck!
Remember, lots of participation with entry's means we can once again have these on a monthly bases!!!!!!!