Ok I saw timmyshoota posted a mask thread so I thought to myself "we need a hopper thread". So here it is guys.
I'm a halo man myself so just take ur pick of my current collection. This was copied from my thread on pbnation so thats why its worded like it is.
First is my Vl jr
Speedfeed
Camo big mouth shells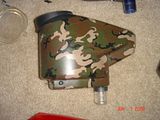 Second is my Hater Symbio halo
Grey 08 hybrid shells (very rare)
08 hybrid backplate
Hater symbio board
Rip drive
Spd rip star
White speedfeed
Brand new hybrid drive cone
All new internals (Its just a shell in the pic at the moment. it will come with the internals from the worrior shelled halo. I was using that hopper to test a gun.)
4 brick AA battery pack(lighter than a 6 brick but with the same performance)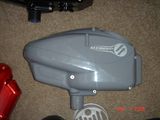 Third is my Angry halo
Black hybrid shells
Cut feedneck (just a lil and a great job btw :D )
Angry halo board
Rip drive
Shocktech halo drive spring(longer than the stock one)
Shocktech upgrade kit (its not the 06 one so it must be teh 07 one)
Black speedfeed
6 AA brick or 9v mod ur choice
Fourth is my Reloader B
Reloader B board (its the B not the b2)
Black speedfeed
I can include a rip drive for it.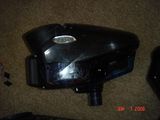 Fifth is my stock boarded halo b
Black worrior shells (one crack on the front/top of the loader from over tighten a screw. But it doesn't affect the performance of the loader)
Black speedfeed
It will come with different internals. The internals in the pic are from the symbio halo.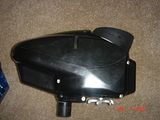 Sixth is my pearl red stock boarded halo
Stock lid or speedfeed
Pearl red empire shells (has a few cracks near the front of the loader but it still works great. May need the shells replaced but it works fine with tape)