Please do not discuss whose gun is in the picture. If you know, keep the secret. You may discuss it in this thread...just not whose it is.
NO OTHER PICTURES ALLOWED in this thread....
Vote for the Spyder you like best or the one that you feel has the most work done or improvement.
Make sure to vote in all the polls
Votes will be made public to avoid cheating. Any gun found to have fraudulent votes will be disqualified.
Polls close in 5 days. Have a great contest!
If you don't see your marker, even though you entered, then it was not in the right format or the picture was invalid (I allowed a slightly larger picture size on a few of them, and if your specs are not shown it is because you did not submit them in the right format. If you want them in PM me in the correct format and I will add them)
************************************************
And the Markers are........
Icon Z- 18" RAP4 rifled barrel, MR1-trigger frame without grips, RAP4 whisper muzzle brake, custom dremeled trigger, custom barrel shroud, RAP4 HG Bi-pod, RAP4 CAR stock, stock bolt, stock striker, Quick Kamo paint job.
Spyder MR1 (A)- J&J 14" ceramic barrel, JCS Voodoo folding combat stock, CUSTOM bolt plug, Sundragon CCM vertical feedneck adapter, Sundragon CCM No-Rise clamping feedneck, Trinity fake silencer with weavers, UTG rail covers, UTG 5 position folding fore-grip, Madman spring kit, CUSTOM Kingman MR series grips, Oregon Scientific ATC-1000 camera, N-Star red dot, CUSTOM silent sling.
[/quote]
Spyder MR1 (B)- BT 16" M4 Barrel/handguard and sight, Carr adjust stock, Custom AR15 Mag with Mag puller used as a mag slot, Spyder compact 45 single trigger, Custom off set rail with Red Dot sight, Mac line with a 32 degrees small drop and smart parts ASA on/off and HPA remote , Three point tact sling
Victor- custom victor body, ESP frame moved forward, classic dipswitch board w/ roller switch, modded trigger, Dye Sticky 3s,shortened feedneck w/ Java slip-on, 14" 32* Whisper barrel, otterized internals (minus stock valve), CIP Assault Block, BL '04 Torpedo reg, custom maltese/iron cross on bolt and quick strip pin
Spyder MR1 (C)- Custom foam pipe insulation barrel shroud, iron sights, RAP4 18" rifled barrel, rocking trigger, ACS Bolt, RAP4 CAR Stock, Whisper 2" muzzle brake, Homemade sling, RAP4 HG Bipod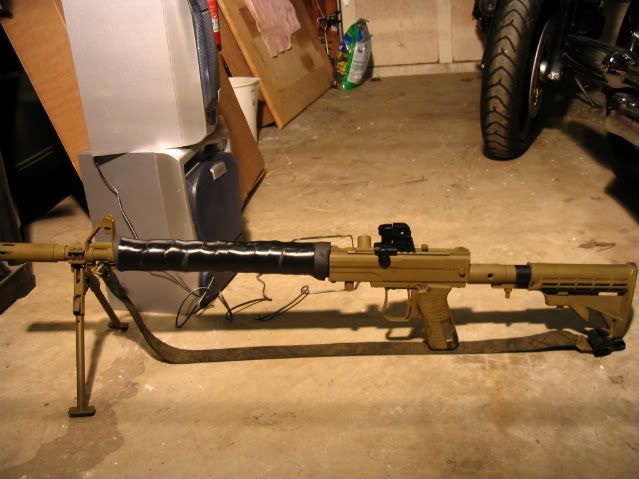 VS2- Custom Dremelled Halfback, Custom Dremelled & Polished Trigger Frame, Tadao + M7 Board, CP Shorty Reg, CP Reg Adapter, CP Pro-Mini ASA, CP Sling Trigger w/Magnetic Return, ACP Low-Blow & Del-Flo Bolts, NDZ No-Rise Clamping Feed Neck w/Polished Clamp, Shocktech LPC (Polished), Powerlyte Scepter 9pc. Barrel Kit (12" & 14"), Polished Internals, Custom Macroline Fittings