Please do not discuss whose gun is in the picture. If you know, keep the secret. You may discuss it in this thread...just not whose it is.
NO OTHER PICTURES ALLOWED in this thread....
Vote for the Non-Spyder you like best or the one that you feel has the most work done or improvement.
Make sure to vote in all the polls
Votes will be made public to avoid cheating. Any gun found to have fraudulent votes will be disqualified.
Polls close in 5 days. Have a great contest!
If you don't see your marker, even though you entered, then it was not in the right format or the picture was invalid
************************************************
And the Markers are........
1- Impulse
Black imp body, black 12" proto 1 piece barrel ,evil asa ,smartparts grips , some type of lpr(help me out on this one) , shocker reg?, eclipse magnetic blade trigger, function valve, clamping feedneck,WAS board, white NDZ bolt
2- DM6
Clear DM6, Red Parts, Virtue Board, Orange bolt Sharpied VP Trigger, Tyler Humphrey UL Grips, Blackout screw kit, CP ASA, sXe stickers.
3- Timmy
aim jam body, ac rx frame, cp sling trigger, ans ram, and ram cap, aim poppet, lapco feedneck, alias front block, hybrid verdikt lpr, pmr barrel, cp long reg, cp direct moun on/ off asa, kila detents, kila eye covers, ans bolt, 2k5 sleeve, aim board, aim trig guard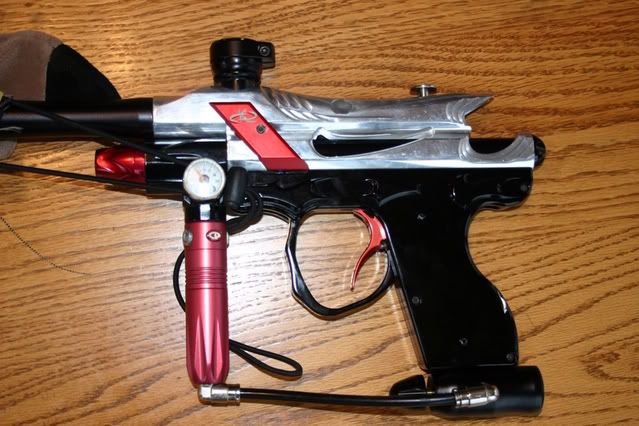 4- Angel A1 - Miami Rage Edition
Three piece eye covers and detents, 16" Stiffi RageStik barrel
5- 2006 MacDev Cyborg
'07 Red Valve, Red Lazer eyes, CP ASA, Dark Seoul grips (not pictured), MacDev mojo
6- Eclipse Factory Cocker
Eclipse Factory Body, '06 Dark Ego Frame and Trigger ,'06 Ego Grips, E2 1.10 Board, E2 Noid Housing and Noid, MTX MQ2 Valve, Eclipse LPR, Eclipse Ram, Eclipse QEV's, Eclipse Bolt and Bolt Pin, Eclipse Cocking Rod, Eclipse Oops On/Off, Warped Sportz Ironcross Detent, Hybrid Headlock Feedneck, AKA Sidewinder, '07 Freak Back, 10" WWA UL Freak Front, Anodized by bazooka_boy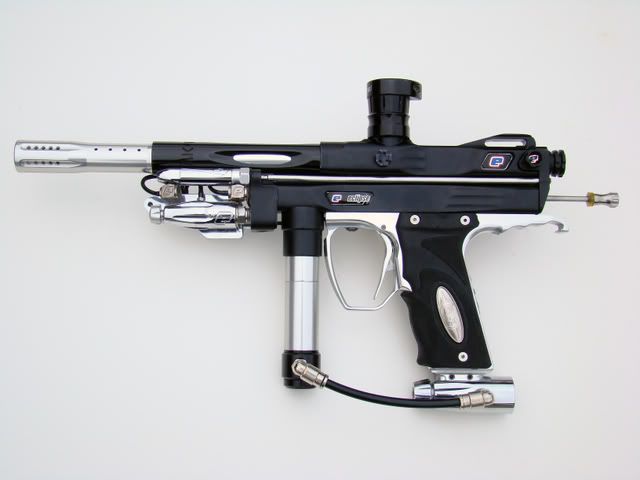 7- SmartParts Nerve
14" evil driver barrel, TeamBoard(rare)
8- 05 Pilot Spimmy
Gen 2 clamshell, WAS 2.8 equalizer, CP Reg, Freak Barrel kit, Trinity t-lock, Hybrid ASA and Contract Killer grips, Lucky Front Block
9- Shocker 4x4
Custom anno, custom super light mill job, hyper sport works single trigger frame and front grip, Wood Grips, Freak Barrel with blue 14" AA front and 68/4500 LP MaxFlow.
http://homepage.mac.com/amgnme/.Pict...SuperLight.jpg