Well I cleaned out my shop last week and found a few items that im tired of. so here we go, pics available upon request.
NO TRADES
I DONT SHIP FIRST
MO is King Checks accepted but you must wait for them to clear
Im not listing prices you make an offer PM it to me.
WILL NOT PART THE ION
AIM Theredbarron006
Email.
Theredbarron@gmail.com
Okay first off.
The last Ion (besides my personal one)
1 LNIB Smartparts Ion with Dust black Freak kit (12" AA front), Eclipse QEV, CCM No rise, NDZ wave composite trigger, Unicorn bolt, Blackheart board, CIP Uni, System X 68 5k tank (system X tanks use centerflag regs) Hydro is 05/04 good until 09. WILL NOT PART Pending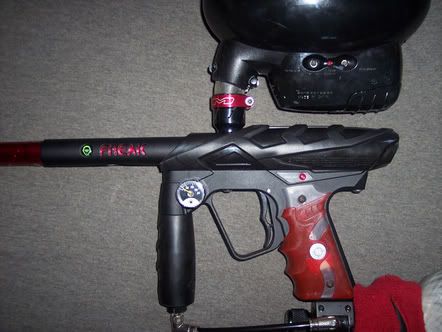 Spyder stuff.
1 Esprit Body with stock internals minor scratching
1 ACS bolt 1st generation broken in SOLD locally
2 stock ESP triggers 1 left
1 kingman hole adapter block
Grips
1 set of red spyder stickies SOLD
2 sets of .45 stickies (red, black) Red ones SOLD
1 set of grey contract killer panels Pending
1 set of grey hybrid lady panels SOLD
Random Stuff
1 47 3k tank w/ Dye Rhino cover (red) Hydro good till 09
3 Stock Ion Feednecks 2 Left
2 stock ion triggers
1 very used empire tourny pack 4+1 SOLD
1 set of Dye Invision goggles BNIB (Red) Pending
5 Barrel condoms (Red DYESOLD ,Stock Ion, Black CK, 2 Black Angel)
I also have spare parts for all kinds of guns ranging from spyders to gen 4 timmys just let me know what you need and I will take a look around for them.
All orders will come with a free sticker or 2, I dont normally get rid of any of my stuff but this stuff I never use and I hate having so much stuff that I dont know what to do with it.
Edit: this is also up on local forums and soon to be up on the Nation act fast or you will miss out.